Products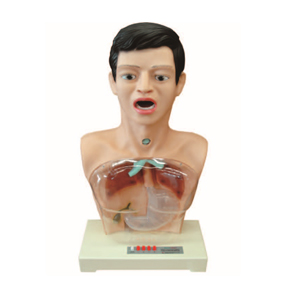 GD/H7-1 Tansparent Gastric Lavage Simulator with Warnings
Model:GD/H7-1
Brand:General Doctor
Description:
GD/H7-1 transparent gastric lavage machine with alert model is a kind of teaching training tool for clinical emergency, medical teaching, training the clinical medical staff.The production is upper body, made of transparent plastic, more fit for clinical operation .It can be installation and removal through screw nuts and watched the oral, chest and abdominal cavity location and morphology of internal organs by naked-eye. This model with light alert system can demonstrate the drainage function of gallbladder to duodenum and be the gastric tube insertion and gastric lavage operation and training. It is realistic shape and simulation, strong clinical feel. The hindrance of the gastric lavage tube inserted is similar to the operation of the real human body. It is used in the practical operation, training and teaching of the clinical medical staff in the medical colleges, the nursing colleges, and the vocational health schools and the universal clinical training and the practical operation for the students and staff in the basic health institutions.
Features:
1. The simulator can demonstrate gastric lavage,oxygen inhalation,nasogastric gavage,tracheotomy nursing,duodenum drainage and double air sac compression of esophagus and stomach rundus,etc.;
2. Replica of standard adult upper half body;thorax with anatomical structure marks;demonstrate operational process visually through the transparent chest shell.
3. Comes with lampligh warning system and allow to demonstrate function of duodenum drainage
4. Pupils contrast demonstration